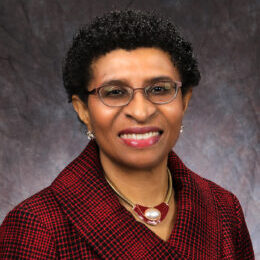 Area of expertise
Administration
Dr. Eucharia E. Nnadi is the Chancellor of the Henderson, Nevada Campus of Roseman University of Health Sciences (formerly University of Southern Nevada, prior to that Nevada College of Pharmacy). Prior to becoming Chancellor on July 1, 2011, she served in several other positions at the University including Vice President for Program Planning and Faculty Development, Chief Operating Officer (COO), Vice President for Personnel and Vice President for Academic Affairs.
Prior to joining Roseman University of Health Sciences in July 2003 she was the Vice President for Academic Affairs at the University of Maryland Eastern Shore (UMES). She went to UMES from Howard University where she served as the Dean of the College of Pharmacy and Pharmaceutical Sciences. Dr. Nnadi became the first African American female Dean for an accredited U.S. College/School of Pharmacy. She began her academic career as an Assistant Professor of Pharmacy Administration at the College of Pharmacy and Pharmaceutical Sciences, Florida A&M University (FAMU), Tallahassee, Florida in 1981. She became the first female full professor at FAMU's College of Pharmacy and Pharmaceutical Sciences in 1989. During her career in academia, several units other than academic degree programs reported to her, such as library, human resources, financial aid, registrar and student services, university radio station, cooperative extension, rural development, Title III program, and institutional technology.
Dr. Nnadi earned the B.S. degree in Pharmacy, cum laude from Creighton University in Nebraska. She earned both the M.S. degree in Hospital Pharmacy and Ph.D. degree in Social and Administrative Pharmacy from the University of Minnesota. She earned her J.D. degree in Law with high honors from Florida State University. She has received training in Dispute Resolution Using Mediation, Total Quality Management, Leadership Training and Fundraising to name a few.
Dr. Nnadi has taught several courses to graduate and undergraduate students. She served as principal or co-investigator on several grants. She authored and co-authored over 50 articles/abstracts, which include chapters in textbooks, "Health Research, Design and Methodology" published by CRC Press, "Human Resources Management for Health Care Professionals" published by Howard University Press and "Pharmacy and the US Health Care System" published by Pharmaceutical Press.
Dr. Nnadi received several honors and awards. She was inducted into Rho Chi Pharmacy Honor Society in 1976. At FAMU, she was awarded the Pharmacy Faculty Incentive Award for dedication and Outstanding Service in 1985, and the Golden Pen Award for greatest number of publications in 1988. At FSU College of Law, she received three books awards in 1991 and 1992 for receiving the highest grades in three subjects. She graduated in the top 8% of her law class in 1993, while carrying on full responsibilities of a full professor and full time as a law student. Dr. Nnadi was inducted into the Order of Coif Law Honor Society (FSU Chapter) for her achievement in law school. She received the Pharmacist Award from the Maryland Pharmaceutical Society in May 1996. She is also a licensed pharmacist and an attorney.
Dr. Nnadi is an active member of national professional organizations and served on several professional committees.
Education
BS Pharmacy, Creighton University
MS Hospital Pharmacy, University of Minnesota
PhD University of Minnesota
JD College of Law, Florida State University
Affiliations
Florida Bar
Nebraska Bar
American Pharmacist Association (APhA)
American Association of Colleges of Pharmacy
American Society for Pharmacy Law (ASPL)
Rho Chi (Mu Chapter) Pharmacy Honor Society
Order of Coif Scholastic Law Honor Society (FSU Chapter 1993)
Awards
1. Rho Chi Pharmaceutical Honor Society (Mu Chapter)
2. FAMU Pharmacy Faculty Incentive Award 1985- (For Dedication and Outstanding Service)
3. Outstanding Young Women of America 1986
4. FAMU Pharmacy Faculty Golden Pen Award 1988 (Greatest Number of Publications)
5. Stagg, Hardy Ferguson, Murnaghan and Mathews, PA (Book Award in Remedies) FSU, 1991
6. Henry, Buchanan, Mick and English (Book Award in Local Government Law) FSU, 1992
7. Book Award in Immigration Law, FSU, 1991
8. Top 8% of FSU Law School graduating class of May, 1993
9. Order of Coif Law Honor Society (FSU Chapter), 1993
10. International Who is Who of Professionals 1996
11. Maryland Pharmaceutical Society – Pharmacist Award May 1996
12. Certificate of Excellence – Outstanding Leadership – Department of English and Modern Languages, UMES, 1997.